5 ways to stay healthy this winter
It's getting to that season again. The temperature's dropping and flu season is approaching, so the big question is, how do you keep your healthy habits in check to protect your immune system and avoid getting sick?
Well, have we got some tips for you! So, curl up with some fluffy socks under a blanket with a tea in hand and get reading.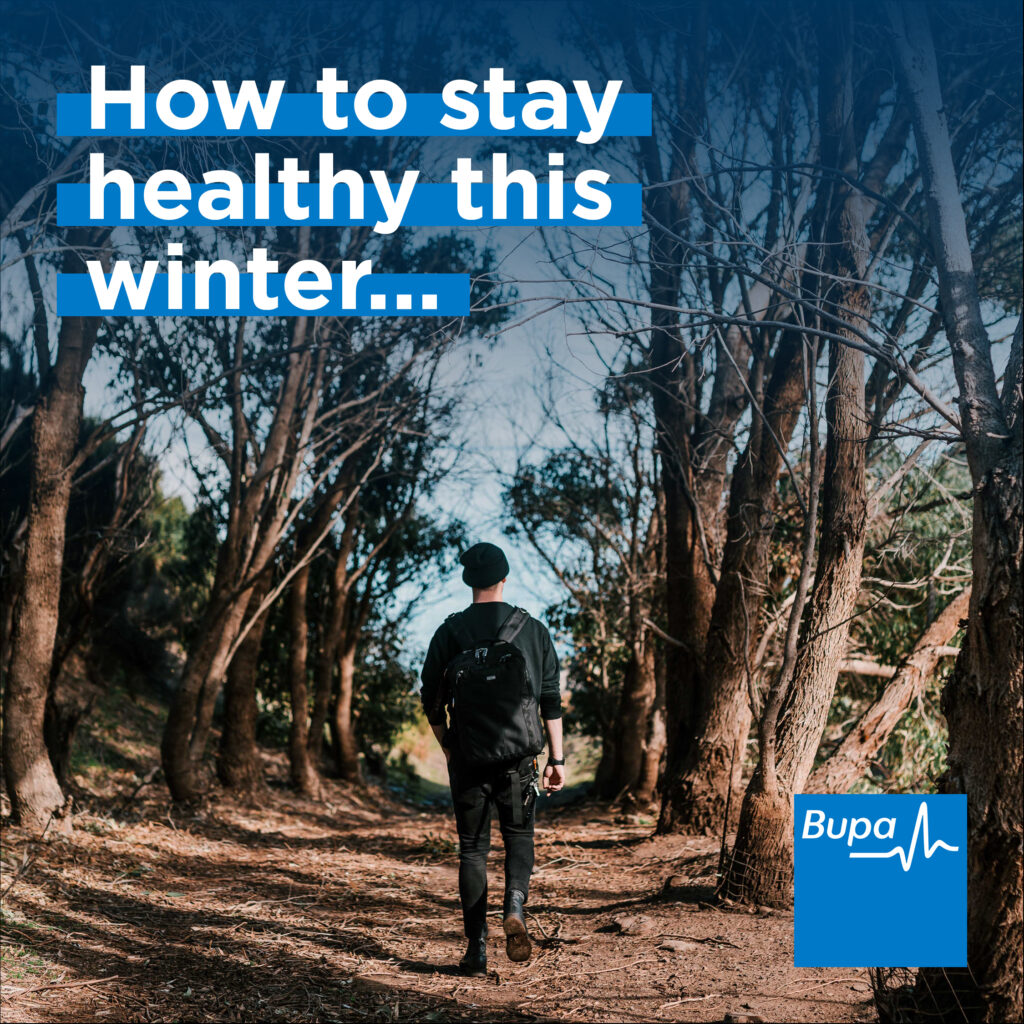 An apple a day…
If you've heard the saying 'an apple a day keeps the doctor away', you probably know it's an exaggeration but it's a saying for a reason! Nutrition is key. What you put in your body makes a world of a difference. So, eat right and you'll feel right. Get your intake of fruit and veg, lean protein and wholegrains to ensure you've got the right vitamins, minerals and antioxidants to keep your immune system strong!
Protect against the flu
Have you started to feel the morning chill in the air? Winter is coming! Which means it's time to get your flu shot. It's recommended to have the influenza vaccine in autumn. This will ensure there is enough time for your body's immunity to the virus to be strengthened before winter really hits. Some workplaces in Australia offer annual flu shots for free so if you're working full-time, it's worth checking with your workplace to see whether they offer this. Otherwise, many pharmacies and GP clinics have a flu shot service where you can book in and get vaccinated. Getting the flu is the worst! So make sure you've protected yourself.
Listen to your body
It's easy to ignore the signs and try and push through it, but if you're feeling a bit run down, just take a break. Pause, rest, reflect and reset. And remember to get some sleep. Whenever I'm super stressed and run down but ignore the signs and keep going, I tend to get sick. It's as simple as staying in bed on a Friday night instead of going out with your friends or taking a warm bath instead of working or studying in the evenings. Trust me, you'll thank yourself later.
Stay positive
It might sound like I'm stating the obvious here but when things get stressful, I tend to find myself in a negative headspace. If a looming deadline feels unreasonable or someone at work or in class has me frustrated, it casts a grey cloud over everything. And the thing about complaining is that it often just makes you feel worse and then you complain more, and it's a vicious cycle. Instead, vent when you need to vent but try and stay positive. Some feel-good suggestions: meditate, stretch, dance around the house, meet with friends, tell a lame joke, or watch your favourite tv show, just do what makes you happy!
Get some exercise
Endorphins are your friend! Personally, I like starting my day with some exercise. Even though I'm not a morning person, it makes me feel significantly less grumpy to be up early. It also helps build a strong immune system which means you'll be healthier and hopefully avoid catching a cold or flu and sniffling through the winter months. Pro-tip: if it's really cold outside where you are, just stay in and do an at-home workout. Surely, you have a few saved from your #StayHome days like me!
See? Who said keeping well during winter is hard? There's 5 easy ways to keep stay healthy and smiling through the colder and darker months in Australia!
Reposted with permission from Bupa. Original Article.
Or book an appointment with one of our registered migration agents.
We strive to keep abreast of the all 
the latest news
 and goings on in the complex world of migration. For regular updates and to be part of the community, don't forget to like our 
Facebook Page
.