Trade Courses – Student Visa
Trade Courses – Student Visa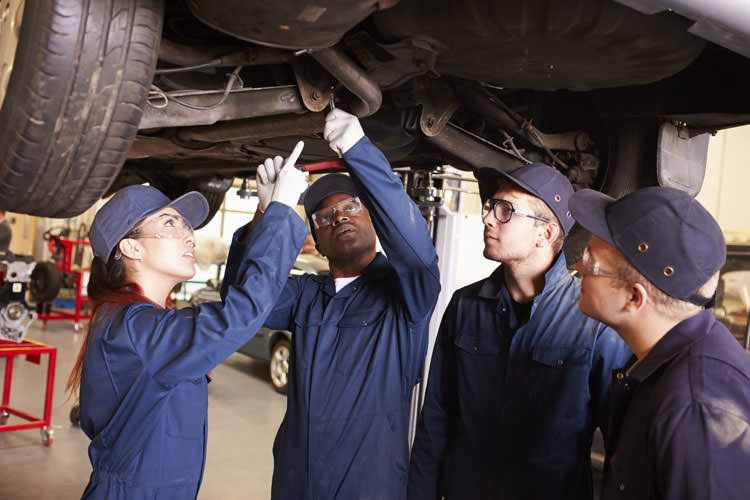 Progress your professional career by completing a Trade Course. Students are provided with a wide range of fundamental principles relating to industry practices and procedures including occupational health and safety and industry related skills to further their profession. Popular trade courses include;
Certificate III in Carpentry
This course is for people who want a career as a carpenter and wish to work in the construction industry. You will learn how to handle carpentry materials, perform setting out, apply construction methods including wall and ceiling framing, carry out measurements and calculations, read plans and specifications and demolition procedures.
This course covers many aspects of the building industry and offers life size practical experience. The course includes skills in areas such as plan reading, hand and power tools, scaffolding, framing, communication, and occupational health and safety.
Certificate III in Wall and Floor Tiling
The Certificate III in Wall and Floor Tiling provides a trade qualification for residential and commercial construction work. This course covers common skills for the construction industry, as well as a specialist field of work.
On successful completion of this course, students will be able to:
Read and interpret plans and specification
Use wall and floor tiling tools and equipment
Repair and fix wall and floor mosaic tiles
Apply waterproofing process to internal wet areas
Erect and dismantle restricted height scaffolding and work safely at heights
Certificate III in Painting & Decorating
This is an excellent way to begin your career within the building industry. Upon completion of this course, you will gain the necessary skills and knowledge to work in both commercial and residential settings.
You will learn how to apply paint, clear and complete timber finishes, texture coatings, wallpaper, special finishes and other coatings to protect, maintain and decorate interior and exterior surfaces. You will learn about preparation of surfaces such as plasterboard, masonry (concrete), timber and other surfaces, occupational health and safety, reading and interpreting plans/estimating and erecting and dismantling restricted height scaffolding. Once completed, you will be qualified to handle painting and decorating materials, use painting and decorating tools and equipment, remove and replace doors / window furniture and match specified paint colour.
Certificate III in Solid Plastering
This course will provide the skills required to undertake a range of solid plastering tasks. This course will also cover core skills that you need in any construction industry which you can utilize for your future career.
For many years now, solid plaster has been the preferred external finish for a majority of domestic dwellings in Australia. The Certificate III in Solid Plastering course will provide direction to apply plaster or cement to a range of finished applications, use plastering tools safely and effectively , trowel texture finishes, install cornices, render straight and curved surfaces and much more. Once qualified, you will be known on-site as a Renderer.
Certificate III in Bricklaying / Blocklaying
Bricks are used in almost all houses that are built in Australia, either as a veneer or in solid brick construction. The Certificate III in Bricklaying / Blocklaying course will teach the skills to safely work with bricks and blocks to create walls, arches, steps, columns and much more. On successful completion, you will be qualified to work as a bricklayer or blocklayer, in an employment market that is in great need of skilled tradespeople. Payment can be rewarding for those who work hard and there are opportunities to provide speciality services in landscaping and other allied fields. Once qualified, you will be known on-site as a Brickie.
Certificate III in Instrumentation and Control
Certificate III in Instrumentation and Control is the study of process automation and is the future of many industries such as waste management, water management, oil and gas, mining, pharmaceutical, automotive, breweries, cement, paper industries, and manufacturing. Although machines are taking over every day human tasks, we still need humans to service, calibrate, fault find, design and install equipment. Usually these jobs are known as instrumentation technicians.
This course provides competencies to select, install, set up, test, fault find, repair and maintain systems and devices for measurement and recording of physical/chemical phenomenon and related process control.
Certificate III in Automotive Electrical Technology
This qualification will enable the successful applicant to work within the automotive trade to be classed as an Auto Electrician. As an Auto Electrician, your job description will include diagnosing and repairing all aspects of both early and modern vehicle electronics, wiring, lighting, electronic fuel management systems, body control components, stationary and power equipment and motors, recreational vehicles and caravan electrics. You will learn to diagnose and repair charging circuits, starting circuits and their major components.
An overview of topics covered will include (but is not limited to) the following:
Service and repair
Starting motors
Electronic systems
Electrical systems
Ignition systems
Charging systems
Air-conditioning systems
Instruments and warning systems
Batteries
Engines
Soldering
Diagnostics
Communication
Workplace tools and equipment
Environmental regulations in the automotive mechanical industry
Certificate III in Automotive Mechanical Technology (Heavy)
Students will be taught to service, repair and diagnose faults in motor vehicles weighing up to 4.5 tonnes and are also taught how to diagnose, service and repair faults in light vehicle engines, transmission, suspension, steering, brake, electrical systems and components. The structure of the course gives students a sound understanding of the vehicles' construction, component identification and operating principles.
Career prospects include being able to apply for trade recognition as an automotive mechanic in Australia. Other areas of employment in automotive include vehicle repairs, servicing and tyre fitting.
Additional studies could increase the range of opportunities in areas such as Agricultural Mechanical, Heavy Vehicle Mobile Equipment, Heavy Vehicle Road Transport and Motorcycle. Studies at diploma level could open pathways into local and multi-national corporations within the automotive industry, where such graduates are in constant demand in such areas as:
Automotive analyst
Field service operative
Team leader
Workshop manager
Service advisers
Service managers
Work with positions at a Para-professional level
Certificate III in Commercial Cookery
This qualification is suitable for those who wish to pursue a career in the hospitality industry. This qualification provides for learners to seek positions in the hospitality industry as a cook or a chef. Graduates can expect to work with a diverse range of people while learning a vast array of food preparation techniques. This course generally encompasses compulsory vocational placement which exposes students to real life work experience with hotels or restaurants.
Upon completion of this course, graduates will be able to:
Plan and cost basic menus
Prepare dishes using basic methods of cookery
Prepare food to meet special dietary requirements
Participate in environmentally sustainable work practices
Graduates of this course are able to engage in further studies to enhance their hospitality skills and career further by undertaking studies in a Certificate IV in Commercial Cookery and Diploma of Hospitality Management.
Certificate III in Engineering (Fabrication Trade) Boilermaker/Welder/Fabricator
Successful completion of this course will provide you with a pathway into the engineering field. This course will enable you to work within the metal, engineering, manufacturing and associated industries.
An overview of topics covered will include (but not limited to) the following:
Perform engineering measurements
Perform computations
Apply quality systems
Apply quality procedures
Carry out mechanical cutting
Interpret technical drawing
Mark off/out structural fabrications and shapes
Perform manual heating and thermal cutting
Use hand tools
Use power tools and handheld operations
Perform sheet and plate assembly
Apply principles of occupational health and safety
Assist in the provision of on-the-job training
Apply safe welding practices
Advanced Diploma of Engineering Technology
Students completing this Diploma may gain entry and obtain advanced standing in university degree programs. The knowledge and skills gained from this course will include (but are not limited to) the following:
Engineering construction techniques
Civil and structural design theory
CAD
Contract administration
Surveying and setting out techniques
Project management
Project costing
It is envisaged that graduates, depending on units undertaken, will be in a position to develop careers in the following fields:
Civil Engineering Designer
Computer Aided Design Drafter
Structural Engineer
Contract Manager
Structural Engineering Designer
Civil Engineer - Construction
Certificate III in Joinery
Joiners usually work in a joinery shop, fabricating detailed joinery components for the use in construction projects. These components usually include timber windows, doors and furniture components. Joiners use various static machines and equipment to prepare and size various materials to suit the job requirements. The materials used may include solid timber, laminates, manufactured board, metal, glass and plastics.
This qualification provides a trade outcome in joinery covering work for residential and commercial applications. It contains core unit of competency requirements that cover common skills for the construction industry, as well as a specialist field of work.
What happens after my course?
You may be eligible to apply for a post-study work visa.
Trade courses in Australia
Our team of professional migration agents are ready to assist you with your visa application from start until completion.
Or book an appointment with one of our registered migration agents.
Explore your Australian study pathways with our team of experienced and highly qualified consultants. We can speak other languages apart from English such as Japanese, Mandarin, Tagalog, Spanish, Dutch, Malay, Cantonese, and French in order to assist you in the best way possible. Our goal is to deliver you with personalised guidance in order to help you reach your goals of studying in Australia.
Speak to our Migration consultants via our contact form or calling our Queensland office on (07) 5592 0755.