Exploring Australia's Regional Gems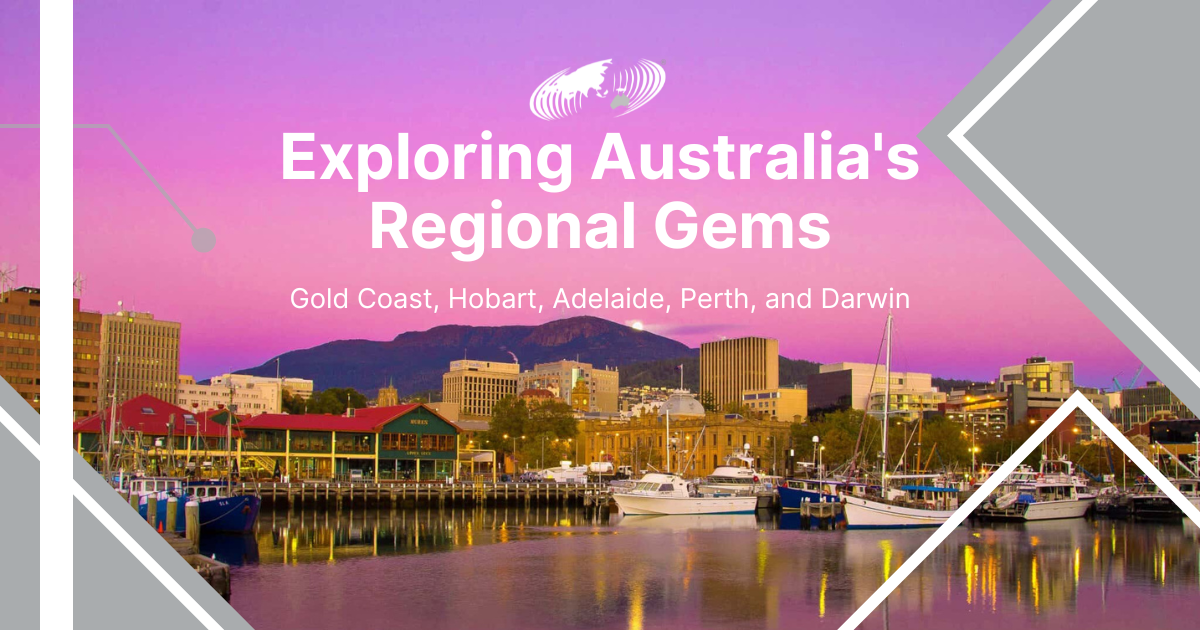 Exploring Australia's Regional Gems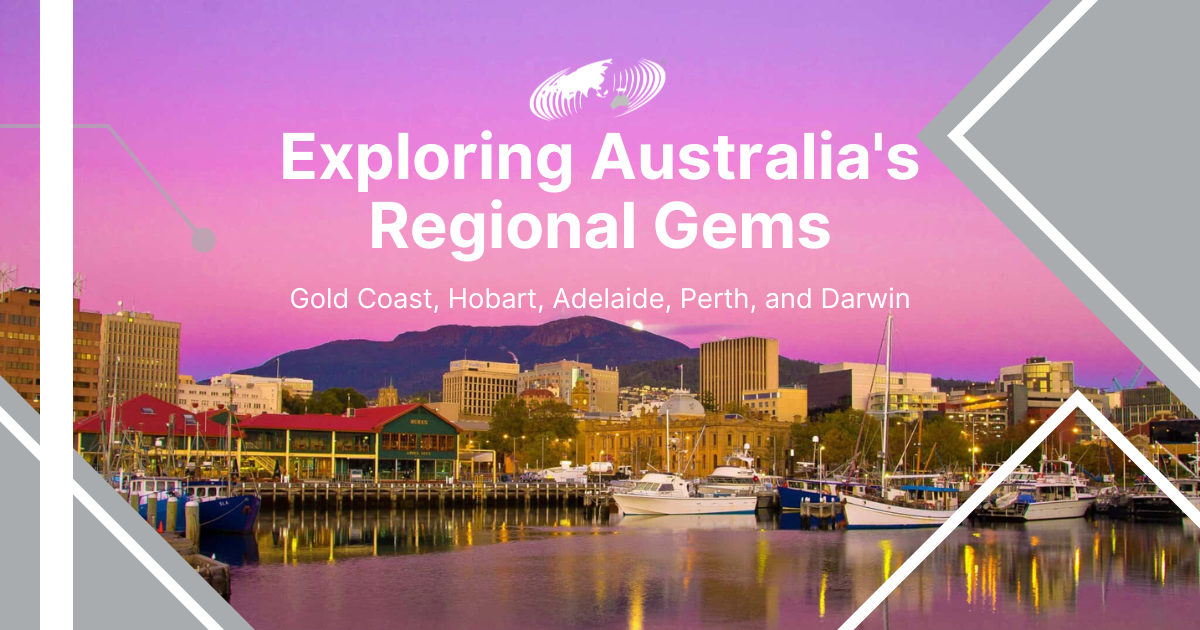 Australia's regional cities are captivating destinations that offer unique opportunities for those considering migration. The Australian government has designated certain areas of the country as 'regional' and given migrants to those areas extra incentives to live, work, study and play there.
While major cities often steal the limelight, the regional areas present their own set of advantages, including welcoming communities, lower costs of living, and abundant natural beauty. In this blog post, we will delve into the charms of five regional cities: Gold Coast, Hobart, Adelaide, Perth, and Darwin. Each of these cities holds its own appeal for prospective migrants, from renowned universities to free activities and compelling reasons to call them home.
1. Gold Coast:
Nestled along the stunning coastline of Queensland, Gold Coast is synonymous with sun, sand, and surf. Besides its famous beaches, this vibrant city is home to a range of top universities, making it an ideal destination for international students. Griffith University and Bond University are two esteemed institutions that offer diverse academic programs, attracting students from all over the world.
When it comes to free activities, Gold Coast offers plenty of options. Explore the breath-taking natural landscapes of the Gold Coast Hinterland, embark on a scenic hike through Lamington National Park, or stroll along the iconic Surfers Paradise Beach. The city also hosts numerous events and festivals throughout the year, ensuring there is always something exciting happening.
Reasons to live in Gold Coast include its laid-back lifestyle, favourable climate, and strong job opportunities in the tourism and hospitality sectors. With a vibrant nightlife, a range of shopping precincts, and a thriving arts and culture scene, Gold Coast is a city that caters to a variety of interests and aspirations.
2. Hobart:
As the capital city of Tasmania, Hobart seamlessly combines natural beauty with a rich historical and cultural heritage. The University of Tasmania, one of Australia's oldest universities, has campuses in Hobart and offers a wide array of programs, including marine and Antarctic studies, making it a desirable choice for aspiring scientists and researchers.
In Hobart, there are numerous free activities to enjoy. Take a stroll along the historic Salamanca Place, visit the vibrant Salamanca Market, or explore the breath-taking landscapes of Mount Wellington. The city also hosts various festivals and events, such as the famous Dark Mofo festival, which celebrates art, food, and music.
Living in Hobart offers a tranquil and picturesque lifestyle. The city boasts a thriving food and wine scene, with an emphasis on locally sourced produce. Outdoor enthusiasts will appreciate the proximity to stunning wilderness areas, including the world-famous Tasmanian wilderness and the beautiful Freycinet National Park.
3. Adelaide:
Located in South Australia, Adelaide is renowned for its affordability, liveability, and world-class universities. The University of Adelaide and Flinders University are two prestigious institutions that attract students from around the globe, offering a wide range of programs across various disciplines.
Adelaide presents numerous free activities for residents and visitors alike. Explore the Adelaide Botanic Garden, visit the Art Gallery of South Australia, or take a leisurely walk along the picturesque River Torrens. The city is also known for its vibrant festivals, such as the Adelaide Fringe and WOMADelaide, which showcase arts, culture, and music from around the world.
Living in Adelaide offers a balanced lifestyle, with a thriving arts scene, a burgeoning culinary scene, and easy access to stunning wine regions like the Barossa Valley and McLaren Vale. The city's excellent infrastructure and lower cost of living make it an attractive option for those seeking quality education and a high standard of living.
4. Perth:
Perth, the capital of Western Australia, boasts a dynamic and cosmopolitan atmosphere, making it a compelling choice for migrants. The city is home to several prestigious universities, including the University of Western Australia and Curtin University, renowned for their research and academic excellence.
When it comes to free activities, Perth offers abundant natural beauty to explore. Take a stroll through Kings Park and Botanic Garden, enjoy a day at the pristine Cottesloe Beach, or hop on a ferry to Rottnest Island to encounter the adorable quokkas. The city also hosts a range of cultural events and festivals, such as the Perth Festival and the Fringe World Festival.
Perth's quality of life is unparalleled, with its relaxed lifestyle, beautiful weather, and thriving arts and dining scene. The city offers a unique blend of urban amenities and easy access to stunning landscapes, such as the iconic Margaret River wine region and the picturesque Rottnest Island.
5. Darwin:
Tucked away in the Northern Territory, Darwin stands out as a truly remarkable city with its distinct character and natural wonders. While Darwin might be considered the smallest capital city in Australia, it offers an array of opportunities and unique experiences that set it apart.
Charles Darwin University, situated in Darwin, is an esteemed institution known for its innovative programs and research. The university provides students with a diverse range of academic choices in areas such as tropical and Indigenous health, environmental science, and creative arts. Darwin is also home to some great vocational colleges such as Alana Kaye (offering Childcare courses) and Latitude College (offering Commercial Cookery).
Darwin's free activities embrace its natural beauty and cultural heritage. Witness the breath-taking sunsets at Mindil Beach, explore the vibrant waterfront precinct of Darwin Wharf, or immerse yourself in the rich history at the Museum and Art Gallery of the Northern Territory. For nature enthusiasts, the nearby Kakadu National Park and Litchfield National Park offer incredible landscapes and diverse wildlife.
Living in Darwin offers a unique lifestyle characterized by its warm climate, multiculturalism, and close-knit community. The city's proximity to Southeast Asia provides unique economic and cultural opportunities, making it an excellent choice for entrepreneurs and those interested in international relations. Darwin's thriving arts and food scene, along with its stunning natural surroundings, make it an unforgettable place to call home.
Incentives
To boost diversity and prosperity in regional Australia, there is additional incentive for international students to study at a regional institution and to live in regional areas post-study: Since 2021, international students studying at all regional locations are offered an extension on the standard two year Post-study work stream of the Temporary Graduate (subclass 485) visa (TGV), which applies to Bachelor and Masters by coursework graduates. More information about the 485 Visa Changes.
Eligibility will include international students who studied at a regional campus of a metropolitan university. The additional post-study work arrangements  will require ongoing residence in a regional area.
Regional areas are also attractive to those interested in the following visa Subclasses:
To be eligible for permanent residence, holders of the skilled regional provisional visas will need to show they have lived and worked in regional Australia while holding one of these visas. They can then apply for the Permanent Residence (Skilled Regional) visa (subclass 191)
Which regional city is right for you?
Australia's regional cities, including Gold Coast, Hobart, Adelaide, Perth, and Darwin, present enticing prospects for migrants seeking a vibrant and rewarding life. These cities offer exceptional educational institutions, a variety of free activities, and compelling reasons to settle down. Whether you're captivated by the coastal charm of the Gold Coast, the natural beauty of Hobart, the cultural vibrancy of Adelaide, the cosmopolitan allure of Perth, or the unique wonders of Darwin, Australia's regional gems have something special to offer to every adventurer and seeker of new experiences.
Or book an appointment with one of our registered migration agents.
We strive to keep abreast of the all 
the latest news
 and goings on in the complex world of migration. For regular updates and to be part of the community, don't forget to like our 
Facebook Page
.