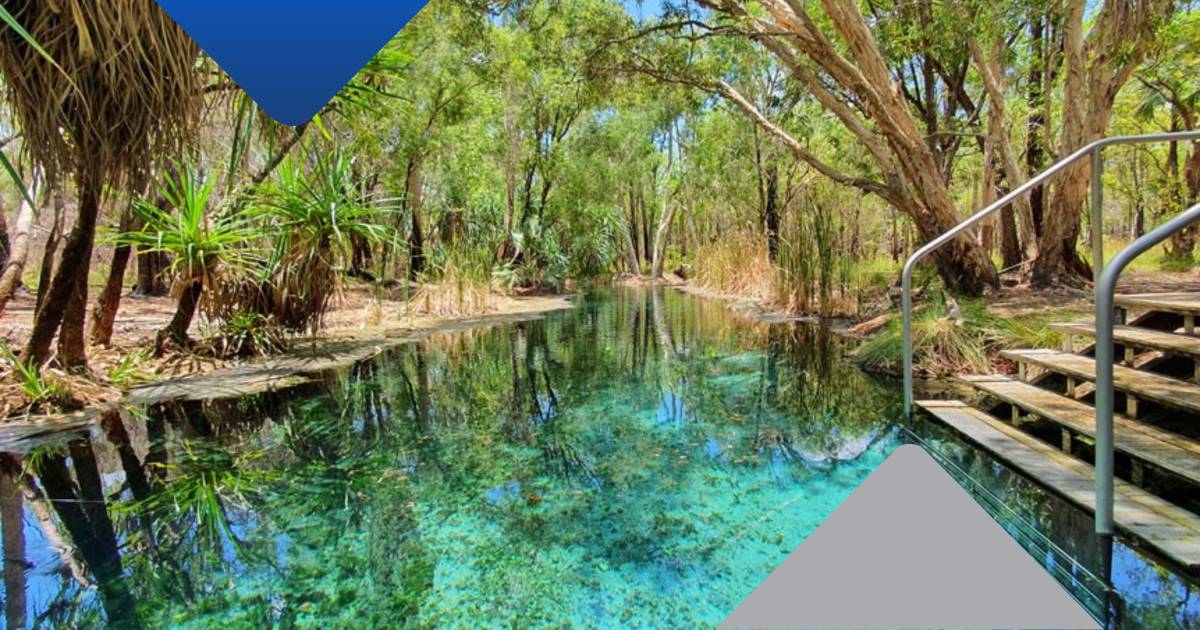 In Focus: The Top End of Australia
Renowned for its Outback desert landscape and ferocious crocodiles, the Northern Territory is an area of stunning contrasts. Its northern region – known as the 'Top End' – is home to World Heritage listed National Parks, making it a true paradise for nature lovers, adventurers, and campers. It offers a great diversity of landscapes which are guaranteed to take your breath away – from rocky mountains to rich wetlands, luscious rainforests, waterfalls and so much more. The Top End is also the best place to come in contact with Aboriginal culture considering Aboriginal people own around 50% of the land in the Northern Territory. With a surface area of 400,000 sq km, the Top End covers four main regions: Darwin, Kakadu, Arnhem Land and Katherine.
The Darwin Region
The Darwin region inevitably includes the State capital Darwin – a vibrant city and gateway to nature at its best. About an hour's drive south of Darwin you can walk through the lush green forests of Litchfield National Park, admire waterfalls and swim in water holes. The area is so rich in spots of natural serenity you'll feel spoilt for choice (Florence Falls, Tjaunera Falls, Walker Creek, Wangi Falls, Buley Rockhole, Tolmer Falls, etc.). Another outstanding landmark is that of the Lost City where numerous monolithic sandstone pilar formations stand erect, reminiscent of some ancient civilisation. Beware though that the 10 km track leading there is extremely rough and reserved for experienced 4WD drivers. Your exploration of the Darwin region would not be complete without spending at least a day on the Tiwi Islands. Nicknamed the 'Islands of Smiles', they are accessible either by plane (30 min-flight) or by ferry (2.5 hours). Seize this unique opportunity to experience Aboriginal villages and learn their culture.
The Kakadu Region
Located three hours east of Darwin is Australia's biggest national park: Kakadu. Spread over 19,804 km2, legend goes – according to Bininj/Mungguy peoples – that the magnificent valleys and waterholes of this World Heritage site were created by the Rainbow Serpent. With its abundant native wildlife and unspoilt landscapes, the Kakadu region is brimming with natural treasures. We recommend exploring the 1.5km circular walk of Nourlangie and viewing its Aboriginal Rock art sites; cruising the Yellow Water Billabong and mingling with the wildlife; bushwalking on some of the 30 established walking trails of the park; going bird watching at the Mamukala wetlands and swimming in the waters of Gunlom Plunge pool made famous by the 1986 movie 'Crocodile Dundee'. Two other must-sees are Kakadu's two major waterfalls (Jim Jim Falls and Twin Falls) – accessible by 4WD.
Arnhem Land
A third area to visit is Arnhem land – a remote reserve east of the Kakadu region where the digeridoo originated. From Darwin you can either reach this destination by plane or 4WD.  Home to the Yolngu people, permits are required to visit this untamed sacred land. These can be obtained from the Northern Land Council (NLC) and/or the Dhimurru Aboriginal Corporation. The Arnhem Land region is the place where you can immerse yourself in Aboriginal culture. Visit a local community, join a cultural tour and learn about how Aboriginal people have been living in total harmony with their environment for more than 60,000 years. You can learn to master the art of fishing, some hunting techniques and all about bush tucker. Arnhem Land also has an extensive list of stunning places to visit. You could go on some amazing walking trails along the coast and soak in the beauty of white sand beaches (Macassan Beach and Turtle Beach). Alternatively, you could choose to go on safari at Mt Borradaile, explore the Garig Gunak Barlu National Park or the ruins of Victoria Settlement.  Arnhem Land has so much to offer that you will wish you could stay longer.
The Katherine Region
About three hours south of Darwin is the magical Katherine region where a multitude of natural treasures unfold. The most renown attraction is the Nitmiluk (Katherine) Gorge, which you can explore while cruising on a boat, flying in a helicopter or canoeing. The latter option enables you to see aboriginal rock art, exciting wildlife, stunning waterfalls and enjoy sandy freshwater beaches. Getting to the gorge can also be an adventure of its own if you choose to hike the Jatbula Trail. Starting at the Nitmiluk Visitor Centre and ending at Edith Falls, this 58km bushwalk will take you on a five-day expedition during which you will also come across waterfalls, aboriginal rock art, rainforest, swimming holes and so much more. Then, about an hour's drive south of Katherine is Elsey National Park where you can simply relax in the thermal pools and walk through tropical woodlands into Bitter Springs.  Take a short drive south of Katherine and discover the stalactites of the tropical limestone system of the Cutta Cutta Caves.
This article is a mere snapshot of what the Top End of Australia has to offer. Home to some of Australia's best hidden treasures, it is a destination that you cannot miss during your stay Down Under.
Words: Anne P (YOUR English Journey)
Or book an appointment with one of our registered migration agents.
We strive to keep abreast of the all 
the latest news
 and goings on in the complex world of migration. For regular updates and to be part of the community, don't forget to like our 
Facebook Page
.