Top 10 Beaches on the Gold Coast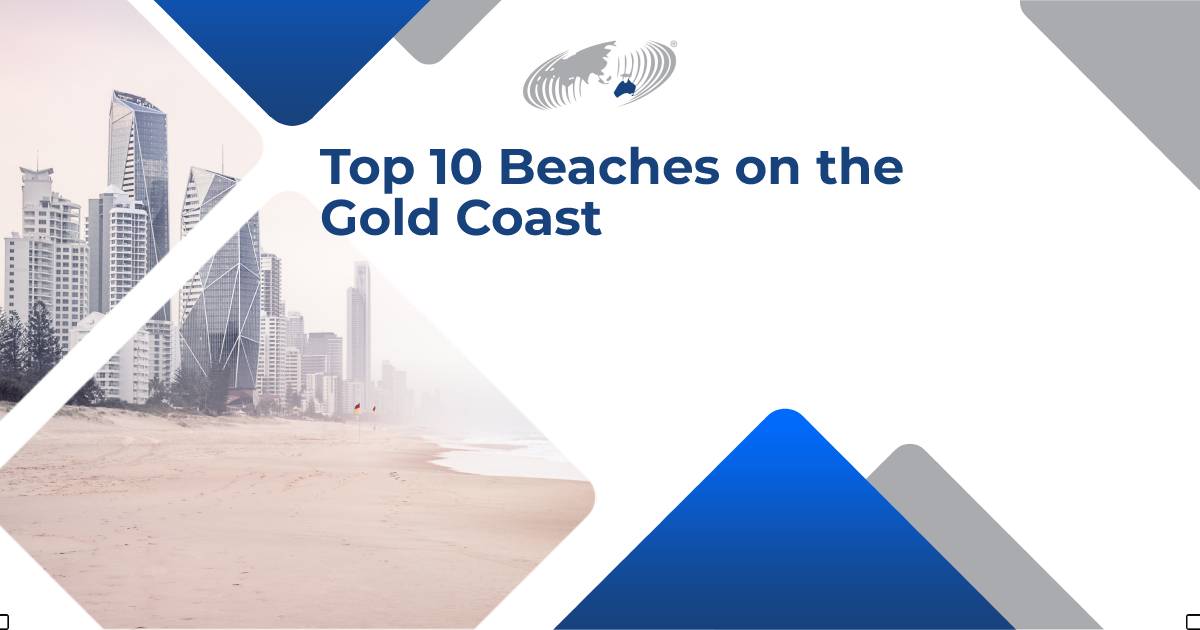 Top 10 Beaches on the Gold Coast
With its 57 km long golden coastline, its world-class surf breaks and its subtropical climate, the Gold Coast definitely ranks amongst some of the most amazing beach destinations. Not many places can say that they have 300 days of sunshine annually and an average water temperature of 22 degrees Celsius. Whether you are a surf lover, a sun worshiper or simply enjoy long strolls on the beach, the Gold Coast beaches are guaranteed to sweep you off your feet. What follows is a selection of 10 of the best beaches on the Gold Coast – from South to North.
Greenmount Beach and Rainbow Bay
Included in this first selection are 2 beaches located in Coolangatta – a gorgeous little town on the southern and quieter end of the Gold Coast bordering New South Wales. Just across the road from lively cafés and restaurants, Greenmount Beach offers great views of the entire northern coastline. Take a walk along the trails of Greenmount Hill, which connect the beach to Rainbow Bay – another stunning spot where you can relax. From Rainbow Bay, continue walking south in the direction of Snapper Rocks, a small rocky formation from which a man-made Superbank extends. You can also walk up the hill to Point Danger to admire the spectacular views overlooking the world-class surf break of Duranbah (D'Bah).
Kirra Beach
Just north of Coolangatta is Kirra, named by QLD Aboriginal people for a boomerang due to its shape, which protects beach users from southerly winds. Kirra Point is yet another amazing surf location. It is in close to retail stores and other commercial buildings and surrounded by parklands with great facilities making it a great meeting place for families.
Currumbin Beach
Extending from Elephant Rock lookout to Currumbin Creek's entrance to the ocean – known as The Alley – Currumbin Beach has everything going for it! It is one of the coast's cleanest beaches with consistent world-class waves suitable for all levels of surfer. It is also the ideal place to practice other types of water sport such as stand-up-paddleboarding (SUP), kite surfing, kayaking and even fishing. Currumbin Beach is very family-friendly and certainly worth spending the day.
Tallebudgera Creek
Located between Palm Beach and Burleigh Heads National Park, Tallebudgera is popular for its calm waters fed by the creek which runs under the bridge and out to sea. Although finding a parking can be a challenge due to its popularity, Tallebudgera is a fantastic location for the family to go swimming, kayaking, paddle-boarding, camping and picnicking.
Burleigh Heads
Halfway between Coolangatta to the south and Surfers Paradise to the north, our next selection is vibrant Burleigh Heads. With its funky café culture and positive vibes, this suburb of the Gold Coast has become one of the locals' favourite gathering spots. During the day, you can go for a walk through the rainforest of its National Park and admire its stunning views overlooking the ocean, swim in its warm waters or surf its iconic barrel. Once hunger kicks in, go across the road to enjoy the café and restaurant scene, walk up and down James Street for a bit of shopping before returning to the beachfront later in the afternoon and enjoy a few drinks on top of the hill.
Nobby's Beach
Our next selection north of Burleigh and Miami is Nobby's. This tiny suburb of the Gold Coast is spotted with trendy restaurants and cafés. Surfers can enjoy its beach break extending the full length of the beach, while families can relax and enjoy a barbeque in the park.
Kurrawa Beach and Broadbeach
Located 4km south of Surfers Paradise, Broadbeach welcomes up to 50,000 visitors annually. Its wide foreshore and adjoining green areas make it perfect for kicking a ball, playing a game of beach cricket, beach volley or throwing a Frisbee. While it may not be the best surf spot, Broadbeach has plenty of activities and facilities for everyone to enjoy.
Surfers Paradise
'Surfers' is probably the most iconic and busiest beach on the Gold Coast. It is an absolute beachfront where walkers, cyclists and skateboarders make the most of the foreshore along The Esplanade overlooking exquisite sandy beaches to one side and residential and holiday apartments on the other. At the heart of 'Surfers' is Cavill Avenue business and entertainment precinct attracting 20,000 visitors daily. One cannot say they have been to the Gold Coast without having been to 'Surfers'.
Main Beach
North of 'Surfers' is Main Beach. It used to be Southport's main surf beach with breaks extending the full length of the beach. It is also a very popular spot with up to 100,000 visitors yearly. If you're on the hungry side, grab a bite and coffee at Pavilion 34 – a former bathing Pavilion next to Southport Surf Club – or take a walk to Tedder Avenue to explore international fine dining.
The Spit
Finally, north of Main Beach is 'The Spit', home to Sea World, Marina Mirage, The Southport Yacht Club and first-class dining and entertainment. Named for being a long spit of sand extending 4 kms from Southport Main Beach north toward South Stradbroke Island, at its extreme is the Lighthouse Jetty, a great lookout for drinking in the views back over Surfers Paradise to Coolangatta. There is also a network of idyllic bushwalking and bike riding trails along the full length of the Spit through Federation Walk Coastal Reserve, offering great views of the ocean and natural harbour created by the Spit, where pods of dolphin are often spotted. The whole area is extremely popular with all levels of surfer and there is even a dog friendly beach.
Words: Anne P (YOUR English Journey)
Or book an appointment with one of our registered migration agents.
We strive to keep abreast of the all 
the latest news
 and goings on in the complex world of migration. For regular updates and to be part of the community, don't forget to like our 
Facebook Page
.